Other formalities for yachts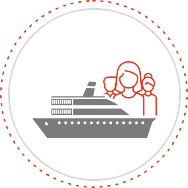 Flag registry
It is crucial to choose your registration flag wisely.
When choosing under which flag your vessel will be registered it's important to determine where and why. Indeed, you can register your boat under an EU or a non-EU flag.
Your choice will have custom, tax but also social implications. We can guide you and help you make the best possible choice.
EU crew member insurance regulations
In France, seafarers now have the choice to be registered under a private insurance equivalent to the French social security when they are considered "French residents".
We can guide you through the different social implications of your crew and proceed to registration to private insurance or to national social security insurance.
Assistance for sale
The sale of a boat has to be carried out carefully. Indeed, it is often recommended to close the deal in international waters outside of any country's territorial jurisdiction.
We can help you with the whole process, including the filing of mandatory declarations for sales in international waters. We can also assist you in drafting the required contracts.
We are aware that the buyer may also have many questions as to the status under which he should come back into EU waters, for example, which formality to carry out in order to avoid any issue with the authorities.