Crisis management with customs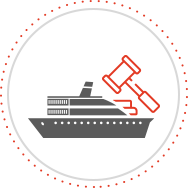 Negotiation & Litigation
We can assist you by liaising with French customs also if you have an issue regarding, for example, a cash declaration. Our experience and good relations with the authorities will be helpful to solve this unpleasant process.
Indeed, you could be checked on board in case of routine checks carried out on a discretionary basis to check if the vessel respects the criteria required by her status (private or commercial)
For every issue with Customs, our team step up to find a solution.
We help with:
Verifying if the formalities were carried out when the vessel reached the EU waters
Coordinating and expediting applications and special requests
Liaising with Customs in case of dispute (working with your chosen lawyer if needed)
Out-of-court mediation